At CRS, our aspirations are bold, far-reaching and based on need, not creed. To save lives and alleviate suffering. To accelerate the end of poverty, hunger and preventable diseases. And to cultivate just and peaceful societies. In short, we want to be a catalyst for transformational change at scale for the world's most vulnerable and marginalized people. Together, we serve humbly and faithfully.
Five distinct yet connected goals guide our work to be part of creating a better world. The heart of these goals—and the measure of all we do—is upholding human dignity. See for yourself how we work shoulder to shoulder with partners to transform lives every single day.
Goal 1:
All people live in just and peaceful societies
Healing knows no bounds in The Gambia.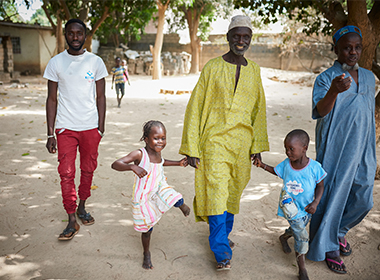 Mafugi Sonko went from being a driver in the Gambian army to getting swept up in a failed coup and thrown in jail, where he spent nine years without a trial.
After 22 years of brutal dictatorial rule came to an end in 2016, the Truth, Reconciliation and Reparations Commission was established to investigate human rights abuses and allow witnesses, victims and perpetrators to speak openly of a painful era.
The commission aims to nurture trust and rebuild a credible social structure. "We help ensure ownership of the process by Gambians. We are hopeful that together we can restore the peace and foster national development," says Joanna Mendy, CRS program manager.
CRS is training commission members on trauma healing and social cohesion to help people like Mafugi heal and even reconcile. Undaunted by lost years, they focus on listening and gaining people's confidence.
For Mafugi, the healing process will take time. "My family did not know about my story before, because they would have found it difficult to live with. Now they are relieved that there is closure. Now I can forgive but I can never forget."
I finally understand that people who suffered human rights violations should report them so people can heal.
Mafugi Sonko
Goal 2:
All people survive and thrive in the face of disaster
Resiliency knows no bounds in Indonesia.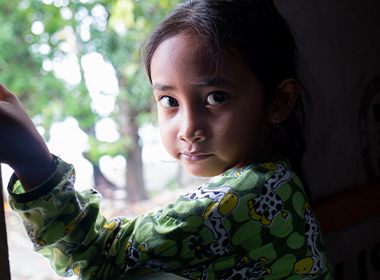 Agus Nundi's home was one of more than 70,000 damaged by the devastating 2018 earthquake and tsunami. Today, he, his wife and daughter still live in a shelter. While Agus is grateful for shelter materials provided by the U.S. Agency for International Development's Office of Foreign Disaster Assistance, temporary tarps eventually wear thin and leak.
That's why CRS and partners provide unrestricted cash grants to empower people like Agus to take charge of their own recovery. The family relied on donated food, until donations ran out. A critical CRS cash grant gave Agus, a fisherman, the ability to meet urgent needs until the fish market recovered. The grant also helped him begin to plan for rebuilding his home and life.
CRS Emergency Coordinator Adhong Ramadhan explains, "We've seen that people are happy for two kinds of help—sending in materials right after the disaster, and then later, when shops open and markets stabilize, giving grants and technical support so families can build their houses."
Meanwhile, the Nundis and other families face the dilemma of living under constant threat of natural disasters. For now, they will stay put, and consider every option for permanent shelter. And they will make hard choices—choices they believe are worth their children's futures.
Weeks after the tsunami, my daughter didn't want to look at the sea. Now she's going to kindergarten. Life starts to go on. She can look out to the sea again.
Agus Nundi
Goal 3:
All people achieve dignified and resilient livelihoods in flourishing landscapes
Courage knows no bounds in Guatemala.
Silverio and Irma Mendez depend on soil and water to raise the crops that feed their family of nine. But parched fields tell the increasingly grim story of a land that nature seems to have forgotten.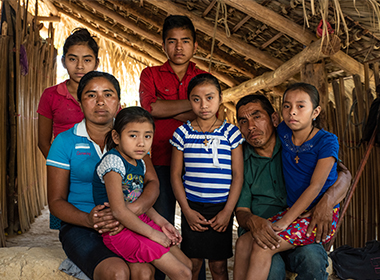 Cycles of drought and flooding endanger farming—the number one livelihood in the region. Over 6 million small-scale farmers are struggling with perilous new weather patterns around the world, including in Africa, Asia, Central and South America and Mexico. At risk are coffee, beans, corn, rice and livestock—some for consumption and some for market—all essential to food security and local economies. The malnutrition rate for children living in the driest part of Central America is already 49.8%.
But Silverio's best weapon is right under his feet. It's called water-smart agriculture— farming practices designed to revive degraded land and protect precious water resources while boosting farmer productivity. CRS partners with farmers to identify community needs, customize solutions, and build a movement around simple, cost-effective farming that can produce results in just one harvest. Change is difficult, but the results are enough to convince farmers, including Silverio, to invest in this new approach.
They are getting less than one inch of rain at a time. Then going 20 to 30 days without rain. In some extreme cases, we're seeing 45 days of dry weather, which no crop can resist.
Daniel McQuillan
CRS Guatemala and Mexico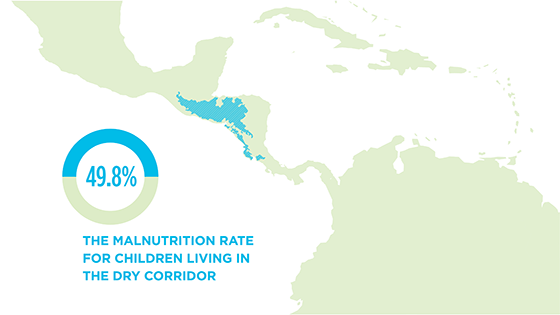 Goal 4:
All children reach their full health and development potential in safe and nurturing families
Opportunity knows no bounds in Afghanistan.
Manjoh, a remote village in Afghanistan's central mountains, had no school, giving many girls one of few options—marriage. Growing up, 9-year-old Fizah watched as her older sisters all married young. She expected to be next, fearful of marriage to an older man or of moving away from her family and friends.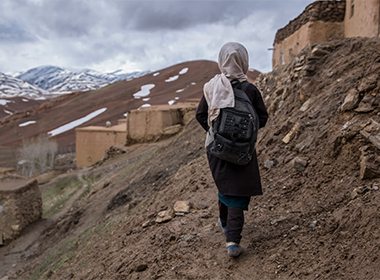 But when CRS helped establish a school in Manjoh—one of 45 schools in remote provinces—things changed. With the school established, supplies provided, and female teachers hired, an education became a real possibility, welcomed by Fizah's parents among many others. "It's not that we want our children to get married young," says her mother Wazir, who is 30 years old with seven children. "There's little to do in the village. Most of us work as farmers, tend to the household or raise children.
Today, while seated on a blue floral carpet in her classroom, Fizah wears a white headscarf, her cheeks rough from the cold mountain winds, and raises her hand at almost every question the teacher asks of the class.
I didn't think I'd ever go to school. None of my family has ever been. I'm even trying to teach my mother how to read.
Fizah, age 9
Goal 5:
All youth are empowered to thrive
Youth know no bounds in Kenya.
Living with HIV is a painful reality for both Joy* and her 17-year-old daughter Evelyn*. Joy was diagnosed in 2005, and Evelyn when she was ten. They lost their husband and father in 2015 to an AIDS-related illness.
To ensure that Evelyn remains healthy and in school, the family works with MWENDO, a CRS-led project funded by the U.S. Agency for International Development and the President's Emergency Plan for AIDS Relief. MWENDO helps caregivers provide support to children affected by HIV and AIDS and keep children in school. The project improves access to health services, helps families set up small businesses, and strengthens the ability of local institutions to respond to child welfare and protection needs. The project has reached 368,325 people across 17 counties in Kenya, 4,515 of them children living with HIV.
Committed to her community, Joy actively counsels others who are living with HIV. "I talk about the importance of antiretroviral medications, and about stigma and discrimination," says Joy. She also stresses the importance of disclosure, because it enhances adherence to medication and prolongs life. Evelyn's recent tests show her viral load is lower than the detectable limit and that the medication is working.
*Names have been changed to protect identity.
I would encourage other children living with HIV to accept their status, take their medication, and not feel left out," she says. "It is not the end of life.
Evelyn, age 17
Join the Conversation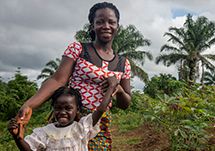 Learn, engage and share to support human dignity.
Twitter: @CatholicRelief
Facebook: @CatholicReliefServices
Instagram: @catholicreliefservices