A family fleeing persecution and violence, risking everything to save their lives. Teenagers who are enduring life on the streets but deserve meaningful jobs and futures. Children languishing without education because they are orphaned, disabled, displaced—or because they are girls. A widow struggling to feed her children, yet her crops are withered by drought.
All human beings are God's children and deserve a stake in their own futures. With your invaluable support, Catholic Relief Services works tirelessly on behalf of the most marginalized people in the hardest-to-reach places. Thanks to your partnership, we save, protect and transform lives. Thanks to your partnership, we strive to be a catalyst for change at an ambitious scale.
Witness what together can do:
Refugees and Migrants
CRS is working with local partners to provide safe, dignified support for families around the world uprooted by crisis or conflict. In Bangladesh—where 700,000 Rohingya have fled violence in Myanmar since August 2017—263,000 refugees are receiving support from CRS and Caritas Bangladesh in the world's largest refugee camp. We are providing safe shelter, water and sanitation; protection for children; walkways and solar lighting, and disaster preparedness training. In Lebanon and Jordan, CRS supports Syrian refugee families fleeing conflict since 2011, with education and counseling for children who have missed years of school and have suffered severe stress. In Europe, job training, language classes and community activities help refugees restart their lives. And in Uganda, we are supporting some of the 288,000 South Sudanese refugees in Bidi Bidi settlement—as well as members of the host community—with critical shelter, water, livelihoods, and construction of schools.
263,000 refugees are receiving support from CRS and Caritas Bangladesh in the world's largest refugee camp.
To answer needs from Venezuela to the Democratic Republic of the Congo and beyond, the Pope's call rings, clear and urgent. In September 2017, Pope Francis charged Catholics around the world with the moral imperative to walk with refugees and migrants toward security and fulfilled destinies. And so began the Vatican's Share the Journey campaign, supported by CRS, the United States Conference of Catholic Bishops and Catholic Charities USA. Amid the largest refugee crisis since our beginning in World War II, CRS is mobilizing churches, parishes, schools and volunteers across the United States. Through Share the Journey campaign we are distributing tools and information around marches, education, service, advocacy and awareness, all focused on supporting refugees around the world and in our own country.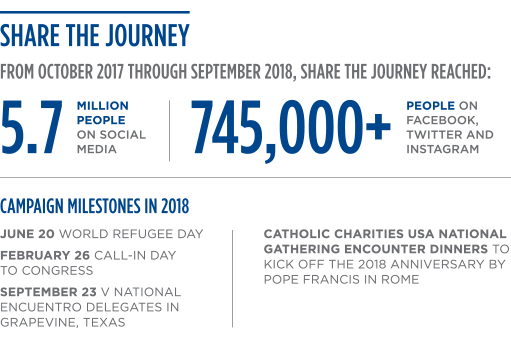 Witness what together can do:
Youth
Young people hold the key to a resilient future—economic, social, political and beyond. With partnerships like YouthBuild International and education programs around the globe, Catholic Relief Services promotes systemic change that helps youth develop their full potential, and lead the way to a future of peace and prosperity.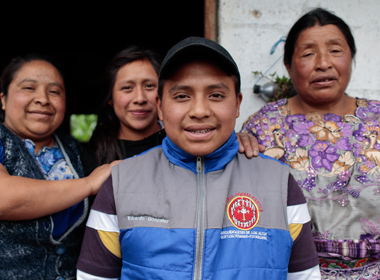 In Latin America, one in five youth ages 15 to 24 are unemployed and not in school. These 20 million young people long for success and stability. But poverty and violence have fractured their families, communities and economies, leading to desperation and hopelessness. And young people who lose hope are most likely to be both victims and perpetrators of violence—and migrate away from their homelands.
CRS, together with YouthBuild International, has adapted a proven model that unleashes the positive leadership potential of youth. Young people learn and practice skills like self-control, teamwork, responsibility, empathy, communication and entrepreneurship. Each graduate creates a personal development plan for long-term success.
What you realize through this program is there are so many problems, but there are so many young people who want to improve their lives and help their communities.
Crisia Chavez, YouthBuild El Salvador outreach coordinator and a YouthBuild graduate
By 2020, we aim to reach 15,000 youth in El Salvador, Guatemala, Honduras, Nicaragua, Ecuador and Haiti. Since 2009, we have enrolled nearly 12,000 young people and are seeing a graduation rate of 79%. More than half of our graduates have gone back to school, found meaningful jobs or started businesses.
Grit and guidance empower at-risk youth.
Witness what together can do:
Education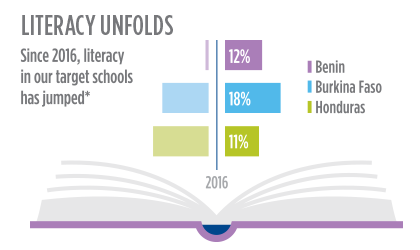 UNESCO reports that 124 million school-age children are not in school, with an additional 126 million children in school but unable to read. Education must be part of our mission—whether that means schools in Afghanistan for girls who are not allowed to travel far from home, makeshift classrooms in refugee camps, or community reading rooms in the Democratic Republic of the Congo.
As one example, together with the U.S. Department of Agriculture's McGovern-Dole Food for Education and Child Nutrition Program, CRS has enrolled 615,000 school children in the last two years alone, and has trained 25,800 teachers and school administrators. Since 2016, we have served more than 130 million school meals. Not only do students show up more regularly when they know they will be fed, but well-nourished students learn more productively. Across our programming in 2018, student enrollment was nearly equal between boys and girls. And CRS delivered almost 850,000 textbooks and other learning materials to students and teachers.
With your help, CRS has enrolled 615,000 school children in the last two years alone.
Overall, CRS supports education programs in 36 countries. In 2018, we invested more than $87 million in initiatives aimed at improving educational quality and literacy. Examples include training teachers, providing instructional materials, offering extra tutoring for children at risk, mobilizing parents and communities  to support education, and improving school infrastructure.
*Statistics refer to programming funded through the McGovern Dole Food for Education and Child Nutrition Program.
Witness what together can do:
Agriculture
Scarce resources. Erratic weather patterns. Gender inequality. Civil unrest. Catholic Relief Services helps farmers around the world lead their families and communities toward prosperity and independence, despite social, financial and environmental hardships.
Protecting water and soil resources is especially relevant in the face of changing climate in the 21st century.
Protecting water and soil resources is especially relevant in the face of changing climate in the 21st century. Water-smart agriculture protects and restores these resources, enabling farmers across Central America, Africa and Asia to produce quality food and incomes that combat hunger, poverty and the need to migrate for work.
According to the Food and Agriculture Organization of the United Nations, women farmers present a powerful force in developing countries. Mothers and grandmothers, often single, make up nearly 43% of the agricultural labor force and drive 60% to 80% of food production through raising poultry and small livestock, and growing food crops. CRS micro-savings groups connect women with financial resources as well as agribusiness training to help them expand their farms, access markets and negotiate fair prices for their crops.
Kenya RAPID Program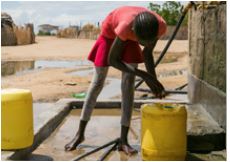 Through the Kenya RAPID program in the remote county of Isiolo, CRS and our partners are working together to increase water access in the most arid parts of the country. In addition to drilling new boreholes and installing water tanks, a life-changing, solar-powered pumping system is being put in place. The system provides clean water for drinking, cooking, washing, irrigating land and sustaining livestock. Farmers are now more resilient to dry seasons that last longer each year, are often able to increase their harvests, and use the added income to feed their families, send children to school and invest in extra seed and livestock. Supported by USAID, Kenya RAPID is projected to serve 450,000 program participants by 2020.
Witness what together can do:
Partnerships
Our partnership with Keurig Dr Pepper, or KDP, is a decade-long collaboration with results that speak to our shared vision. In 2009, CRS received its first grant from KDP to address the pressures of a changing climate on the coffee industry in Guatemala. As with all our partnerships, each party brought value to the problems to be solved. Our renowned agricultural and water expertise, both regionally and globally, combined with our knowledge around livelihood diversification and innovative micro-savings approaches, attracted KDP, a leader in the coffee industry. As a company, KDP is committed to sustainably sourced coffee while advancing livelihoods of small-scale farmers and protecting the environment. They also have a rich history of advocating for other coffee companies to co-invest with them in pre-competitive solutions for small-farm coffee supply chains.
I believe by reducing pollution, no matter where it comes from, we are benefitting personally. It's a benefit for us, for our family and for the community.
Salvador Meza, Coffee Producer, Nicaragua
Since 2009, KDP has funded more than 10 CRS projects across eight countries, with a combined value of approximately $11 million. Access to water, livelihood strategies for coffee farmers, labor rights research, and resilience in the face of erratic weather patterns are commitments we share. New sources of quality coffee and stronger trade terms for growers make our partnership a winning one.
Join the Conversation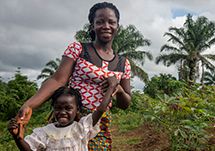 Learn, engage and share to support human dignity.
Twitter: @CatholicRelief
Facebook: @CatholicReliefServices
Instagram: @catholicreliefservices