Our Work Around the world
Despite persistent challenges presented by the COVID-19 pandemic, CRS and our partners have persevered and have joined together to ensure lifesaving aid is received in vulnerable communities. In 2021, our efforts reached more than 193 million people across 116 countries. Addressing the circumstances around poverty, hunger, disease and violence, we continue to go where we are called, working as one human family to achieve the greatest impact alongside the world's vulnerable people.
CRS Global Results
Introduced in 2020, CRS Global Results demonstrate how each program, country and region contributes to our global impact, making our process transparent and accountable. These numbers allow us to measure how we are achieving desired outcomes and how our work across all programs adds up to transformational change at scale.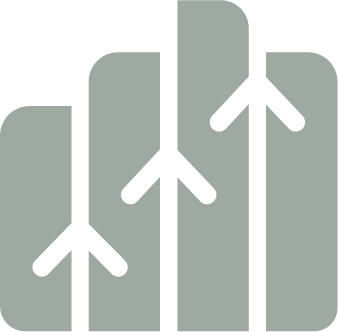 Follow this icon for the 2021 Global Results in each goal area.
Goal 1
All People Live in Just and Peaceful Societies
Healing Trauma in South Sudan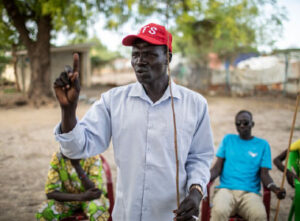 Despite various peace agreements and overtures toward reconciliation, decades of armed conflict among the Murle, Dinka and Nuer ethnic groups in Greater Jonglei, South Sudan, have taken a heavy toll, resulting in an epidemic of trauma and greatly damaging community relationships.
The Murle have also seen guns, including Kalashnikov automatic rifles, used to resolve disputes once traditionally settled by wrestling matches or fighting with sticks.
"The reason our boys are using the gun is that they learned from their fathers, and as they grew up, they developed trauma," explains community leader Peter Mothi, referencing the culture of cattle raiding, abductions of women and children, and the recent civil war.
Now Murle community leaders like Peter are working to change "the culture of the gun" with a series of trauma awareness and social cohesion trainings aimed at engaging unemployed young people.
Funded by the U.S. Agency for International Development's Bureau for Humanitarian Assistance as part of a resilience and food security project, and implemented by Catholic Relief Services, the project helps young people cope with the impacts of trauma, teach self-healing and foster social cohesion within their communities.
It is not easy to convince young people to resolve matters non-violently, but "we have really seen positive changes," says community leader Nyeriza Nyel. "For us who were trained, we realize we are practicing bad things, and we have to stop."
This is the great enemy that is killing so many people in this land. We are all traumatized because of guns.
—Peter Mothi
Goal 2
All People Survive and Thrive in the Face of Disaster
Relief for Displaced Families in Gaza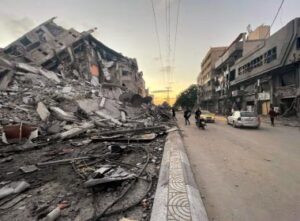 On the first day of Eid al-Fitr, Gazan fisherman Masoud Meqdad and his family were planning to celebrate the end of Ramadan. Instead, Masoud received a call from Israeli forces warning him to evacuate his home due to an impending airstrike—one of many to hit Gaza during an 11-day conflict that resulted in the most intense fighting in the Holy Land since the 2014 conflict. Masoud's family quickly fled, leaving behind a lifetime of belongings, savings and memories.
With the onset of the attacks, CRS teams in Gaza, many of whom were also directly affected, mobilized emergency relief support for displaced families. CRS provided assistance, through direct cash and electronic vouchers, to 1,000 families, like Masoud's, who could then go to local shops and buy what they needed most. Cash assistance gives families the flexibility of choice to meet their unique needs in contexts that might be changing quickly.
"We lost everything," says Masoud, "We needed food and other items [at a time] when there was no way to earn money during the bombing." When his family received assistance from CRS, he says, "I felt relieved."
The assistance helped me during the most difficult time of my life. I bought food, hygiene items and cooking gas.
—Masoud Meqdad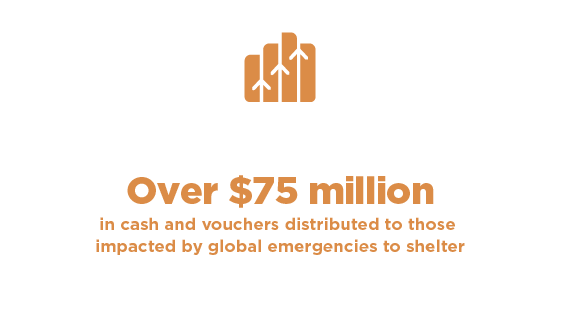 Goal 3
All People Achieve Dignified and Resilient Livelihoods in Flourishing Landscapes
Improving Land through Improving Land Practices
In Central America's Dry Corridor, the weather is not like it used to be. Rainfall has become inconsistent, resulting in the shortening or prolonging of the rainy season, and exposing farmlands to extreme conditions of drought or humidity.
To combat the effect of climate change, CRS supports water-smart agriculture, as a proven practice of managing soil to manage water and increase yields.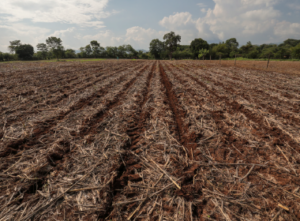 In cooperation with Raíces El Salvador, CRS has introduced farmers to new techniques, including applying environmentally friendly fertilizers; contributing to the conservation of microorganisms in the soil; and planting scattered trees that help reduce water runoff, and generate shade and biomass that provides nutrients to the land. Farmers adopting these practices report an increased resilience to drought as well as the restoration of soil and water resources.
Danilo Garza, who farms in Ahuachapán, has seen a remarkable change in his soil since adopting integral soil management and other water-smart practices. In addition to his guava plot, he has harvested his first cocoa pods, another source of income for his family. Danilo says, "I started with land used for pasture—desolate, deforested, and with deteriorated soil—and now have an agroecological plot!"
We have learned to take care of the soil … when it rains the soil does not wash away, and it stores moisture, so that the plants last longer during the drought.
—René Sayes Sandoval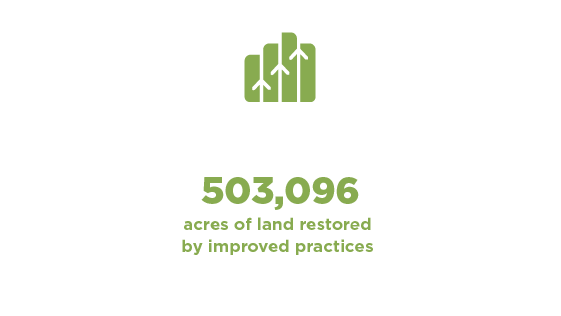 Goal 4
All Children Reach their Full Health and Development Potential in Safe and Nurturing Families
Lives in Treatment, Lives Saved in Kenya
When Janet Kanze Baya discovered she was HIV-positive in 2012, shortly after her first child was born, she began treatment immediately. In 2018, she was identified as a potential Community Mentor Mother and is now a mentor with Making Well-Informed Efforts to Nurture Disadvantaged Orphans and Vulnerable Children, or MWENDO, a project funded by USAID and the President's Emergency Plan for AIDS Relief.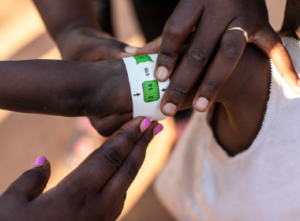 Through MWENDO, Janet helps parents and other caregivers support children affected by HIV and AIDS by improving access to health services, helping families set up and run small businesses, linking them to community savings groups, and strengthening the ability of local governments and institutions to respond to child welfare and protection needs.
Community Mentor Mothers are effective because they've gone through the same experience as those who they counsel, and by sharing her life journey, Janet has been able support to 60 children with HIV and their families in Kilifi County and convince many people to seek HIV testing.
Janet—called Mrs. Jefwa by her neighbors—is proud of what she has achieved as part of the project. She says, "They say, 'If it weren't for Mrs. Jefwa, we could count a number of people who would have died already. But because of Mrs. Jefwa, they are now alive and able to live their normal lives.'"
I feel like this is something I have to offer–to use my HIV status to provide mentorship and also impart hope to others living with HIV.
—Janet Kanze Baya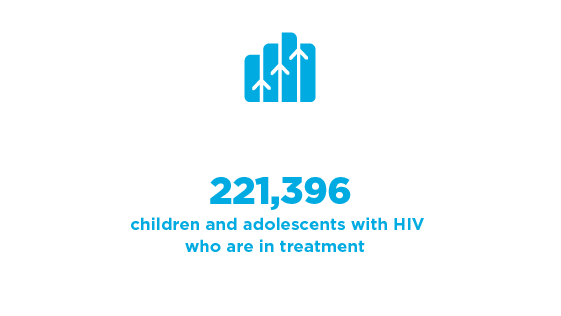 Goal 5
All Youth are Empowered to Thrive
Boosting Young Rwandan Entrepreneurs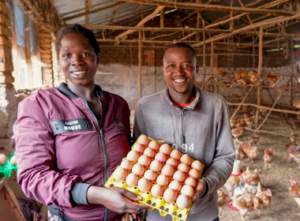 Huguka Dukore Akazi Kanoze, or HDAK, means "Get Trained, Let's Work" in Kinyarwanda. HDAK is a USAID-funded project offering vocational training and community savings groups to help prepare young Rwandans to engage in new business and cooperative ventures in a variety of industries.
But when COVID-19 affected financial institutions' willingness to loan money to fledgling businesses like those created by HDAK participants, CRS Rwanda stepped forward and sponsored a contest for entrepreneurs demonstrating financial need.  CRS awarded a total of $34,800 to 648 qualifying young entrepreneurs from 104 businesses.
Contest winners immediately put their funds to use. In the Kirehe district, carpentry group Urugero rw'Abakozi invested in new woodworking tools, allowing them to expand their group to six people. The cooperative's founder, Alex Ntibagirimbabazi, also received a loan to purchase a bicycle—an important form of transportation in Rwanda's hilly terrain. Another member, Jean-Baptiste Habamungu, explains, "After learning how to save, I bought a field, renovated my home and got married."
By the end of fiscal year 2021, the HDAK project supported more than 40,000 young people in 25 of Rwanda's 30 districts, building on 15 years of successful CRS youth programming in Rwanda together with government, private sector and Church partners.
Before participating in HDAK, I didn't have much direction. Afterwards, I had the confidence to pursue my ambitions.
—Hakizimana "The Big Chick" Eraste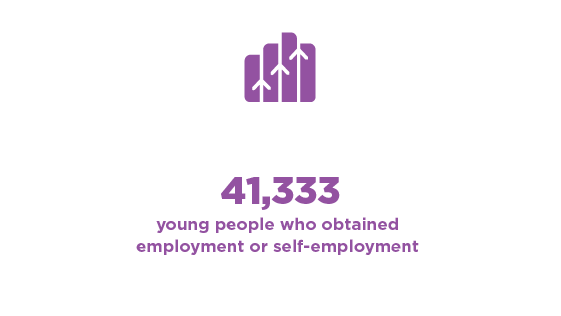 Building a movement of millions to advocate for vulnerable people
Guided by our Catholic faith, Mission & Mobilization is inspiring a movement of individuals in the United States who will take action to advance CRS' vision and make a lasting impact on the lives of our sisters and brothers around the world.
In fiscal year 2021, we focused on increasing the number of people in our hunger and migration campaigns who would urge Congress to respond to the needs of our global family. Through the actions of CRS Chapters and Clubs, and individual supporters—letter writing to news editors, and emailing, calling and meeting with policy makers—we have extended the reach of CRS. And we have seen the impact of these champions reflected in their ability to influence Congress to advance laws and policies.
Over the last year, the faithful advocacy of tens of thousands of people has contributed to Congress passing—and the president signing—the Global Child Thrive Act into law. Successful advocacy campaigns have also contributed to increases in funding for poverty-focused international humanitarian and development accounts in the federal budget, supplemental funding for COVID-19, and the resumption of funding for humanitarian aid for the West Bank and Gaza. These actions are powerful testaments to the collective advocacy efforts of CRS Chapters and Clubs, and individual supporters.