Bringing our best in the face of the worst.
In 2016, CRS provided timely, quality, dignified emergency support in 55 countries. Our global footprint has grown to include Greece, Macedonia and Ecuador. Serving the most vulnerable in our world requires the utmost flexibility to scale up and adapt programming in a changing, fluid landscape. Thanks to the dedication of our local partners, and the unwavering presence of Caritas and the local Catholic Church, we can respond at a moment's notice.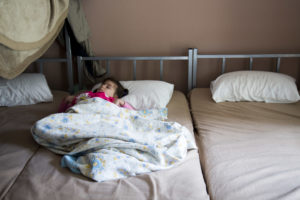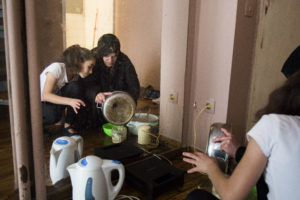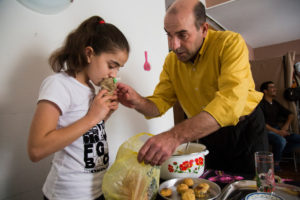 Photos by Oscar Durand for CRS
Sheltering refugees in Greece: a local approach to a global crisis.
When providing people with immediate, safe shelter, we strive to develop creative solutions tailored to individuals and communities. For example, when Athens, Greece became the epicenter of Europe's refugee crisis in 2015, CRS and Caritas worked with the U.N. High Commissioner for Refugees and owners of vacant buildings to provide temporary housing.
The city received 200,000 refugees and migrants in addition to the 700,000 that entered the country in 2014. Most were trying to make their way to Germany, Sweden and other countries when the Balkan states closed their borders. About 60,000 refugees remained in Greece, living in overcrowded camps, and they were physically and emotionally drained after fleeing violent conflict and poverty.
In Greece, 30% of buildings were vacant or abandoned because of the economic collapse unrelated to the refugee crisis. "We said, 'Okay, let's start looking at these buildings, at a city that is in need,'" says Martha Giannakopoulou, CRS architect in Athens.
Our architects reached out to the building owners and offered upgrades, repairs and market-rate rents. The refugees stay 2 to 3 months, on average.
"It is a win-win," says one of the building owners. Money is injected into the economy, abandoned buildings are brought back to life, and vulnerable families have a safe place to rest as they prepare for their next step.
"It's the first time after so long that I feel like I'm a human being," says Tilal Restmo of Aleppo, Syria. Living in a CRS-supported apartment with his wife and 6 children, Tilal and his family were preparing to move to Lithuania, where they were granted asylum. "I pray to God what we've been through never happens to any other human being. Hopefully, Lithuania will be a new beginning for us, a good life. This is what we hope for. Nothing more."
The T-Shelter keeps families together.
When 85,000 people fled after the battle for Fallujah, Iraq, many were stranded in informal settlements in Amiriyat Al Fallujah, and living in treacherous conditions. The only route in was a bridge that was open just 4 hours a day. Explosions in the surrounding area also made it extremely difficult for humanitarian organizations to reach people.
CRS and partners Caritas Iraq and the Sunni Endowment teamed up to provide emergency support for tens of thousands of people. This interfaith partnership is particularly significant amid a conflict rooted in ethnic and religious tensions.
The CRS and Caritas Iraq teams designed the T-shelter, a transitional shelter made of locally available wood. It helps keep families warm in the winter and cool in the summer. And the doors and windows have locks, providing a sense of security to families living in fear. The shelter comes with an optional partition and is on a raised concrete slab, which keeps the floor dry in the wet, muddy conditions. Best of all, families can take it with them if they are able to return home to rebuild their lives. CRS and Caritas Iraq have provided T-shelters to 270 families, and we are building hundreds more, adding water and sanitation systems.
"Even though we have no house, our home is when our family is together. Before, there was no tent that could hold all of us. This shelter allows us to be together. We are dry. We have a door that we can lock and feel safe," says Rasmia, a grandmother.
2016 Emergencies
Select an image for more on our emergency response and recovery work
Boko Haram Crisis in Cameroon, Chad, Niger and Nigeria
100,000 people served
Food assistance; living supplies; agricultural support and livelihoods recovery; water, sanitation and hygiene; financial strengthening; cash-for- work opportunities; peacebuilding; and support
for youth
Conflict in Central African Republic
140,631 people served
Food; rebuilding of homes and shelter assistance; agricultural support and livelihoods recovery; cash-for- work to repair sewer systems, roads and bridges; social cohesion, support for youth and peacebuilding activities
Drought response in Ethiopia
236,000 people served
Emergency food distributions; agriculture and livestock support; access to water; natural resource management; microsavings groups; improved nutrition
Conflict and displacement in Mali
59,824 people served
Food, shelter, cash grants for living supplies, cash-for-work opportunities, livestock fairs, fodder distribution, rehabilitation of water infrastructure
Drought and conflict in South Sudan
223,055 people served
Distributions of 5,173 metric tons of lifesaving food, including airdrops; water, sanitation and hygiene; cholera prevention and treatment
Conflict across the Middle East
1.4 million people served
Shelter, living supplies, winter kits, water and sanitation, agriculture support, and education and counseling for children
Refugee crisis in Greece, Macedonia and Serbia
350,000 people served
Emergency food and supplies; temporary shelter; counseling and other support for children; translation and legal support; urban social service centers; transit camp improvements; and support for children and adults with special needs
Conflict in Iraq
250,000 people served
Food assistance, primarily through cash grants; shelter; emergency living supplies and winter kits; water, sanitation and hygiene; education, emotional care and counseling; school improvements
Conflict in Ukraine
96,000 people served
Living supplies, shelter assistance and repair, children's education and counseling, livelihoods support through vocational training, job search support and small business development
Earthquake in Nepal
171,620 people served
Shelter assistance, supplies to repair homes, training for local masons on earthquake-resistant construction techniques; water, sanitation and hygiene; livelihood recovery
Typhoon Haiyan in the Philippines
400,000 people served
Shelter repair and rebuilding; neighborhood resettlement; livelihoods and market recovery; water, sanitation and hygiene; disaster risk reduction
Earthquake in Ecuador
6,000 people served
Shelter repair and rebuilding; living supplies; water, sanitation and hygiene
Photos by: Michael Stulman/CRS, Michael Stulman/CRS, Petterik Wiggers for CRS, Michael Stulman/CRS, Ric Francis for CRS, Andrew McConnell for CRS, Photo courtesy of Natalia Tsoukala/Caritas, Kim Pozniak/CRS, Volodymyr Nechaiev for CRS, Jennifer Hardy/CRS, Charlie David Martinez for CRS, Eduardo Naranjo for CRS