It takes a village to change the world.
At CRS, we bring together people who can make change happen—and make it last. We connect the generosity of our donors and expertise of our partners with vulnerable communities around the world. Working side by side with these communities, we identify their unique needs and challenges to develop sustainable solutions.
Empowering youth to transform their lives and communities
.
Plagued by crime, El Salvador is one of the world's most dangerous countries. The pervasive violence causes many young people to drop out of school. One-fourth of Salvadorans ages 15 to 24 don't work or attend school.
Since 2009, CRS has partnered with YouthBuild International to empower the young people of El Salvador. We provide life and job skills development, entrepreneurship training, support for school re-entry, job placement and social services. Participants also gain self-esteem and hope for a brighter future.
YouthBuild has reached more than 6,000 young people in 6 years. Eighty percent of graduates have found work, gone back to school, or both. Recognizing this success, the Salvadoran government now provides funding, and new programs have been established in Guatemala, Nicaragua, Honduras and Ecuador. Our goal is to reach 9,000 youth and young adults by 2019.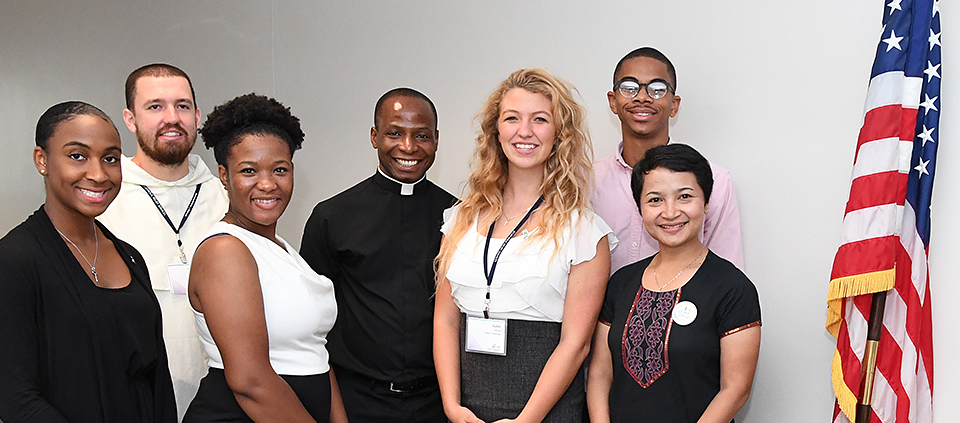 Photo by Jim Burger for CRS
Mobilizing the next generation for social good.
College campuses across the country play a critical role in informing and steering the national dialogue on today's most pressing issues. CRS recognizes the power of young adults, and partners with Catholic universities on a wide range of activities that support innovative solutions to development challenges.
As part of our university outreach, the CRS Student Ambassador program trains students to mobilize their peers and bring the mission of global solidarity to their campuses. Led by CRS Student Ambassadors, chapters across the country work together to create impactful change. In 2016, 786 CRS Student Ambassadors at 85 colleges and universities organized more than 500 events, reaching over 25,500 people.
Our programming for universities also includes CRS Faculty Learning Commons, which develops online college course materials that draw from our work overseas. Through 48 institutions—nearly twice the number in 2015—and 88 faculty members, the project reaches 3,221 students. We're continually adding new learning modules, enhancing academic rigor and improving resources for users.
CRS also collaborates with faculty and graduate students on research, evaluation, training and innovation. By documenting the success of CRS programs, our impact and influence grows. We also provide educators with access to field sites and data to test hypotheses and scale up innovations. In 2016, 29 universities and 6 research centers collaborated with our overseas operations.