Empowering communities to care for their most vulnerable.
Healthy individuals and families are the foundation of thriving communities. And a healthy childhood is the foundation of a healthy life. That's why CRS is working to improve mothers'  health, and child development, and to help marginalized communities manage HIV and AIDS. In addition to bringing lifesaving treatment, we're helping people better manage their own health and well-being. It's an approach everyone can feel good about.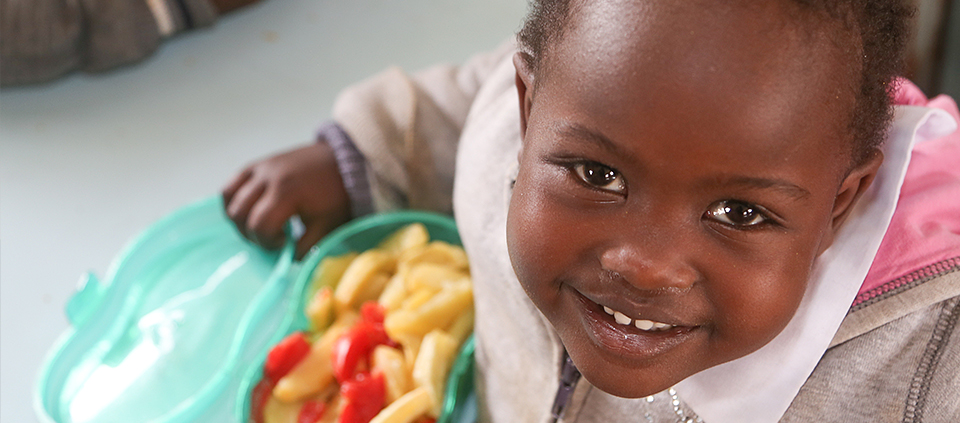 Photo by Philip Laubner/CRS
Amplifying our impact through a national network.
With support from the Conrad N. Hilton Foundation, CRS is expanding quality early childhood development services in Kenya, Malawi and Zambia. Working through their national associations, we're strengthening the capacity of women religious in 48 congregations. Called SCORE, the project supports sisters in helping families have better nutrition, and helping parents to communicate effectively with their children.
There are now 96 master trainers in positive parenting, early stimulation of children, nutrition, counseling and child protection, and health and safety. They have mentored 2,720 sisters and 10,150 caregivers. And the project continues to branch out: 41 small grants have been awarded for income-generating activities that have funded more training, and nutrition programs in early childhood development centers.
"Children's diets have improved, and the number of critically ill and undernourished children has been significantly reduced. Many of those children likely would have died without this support."

—Sister Maria Matepeka, Master Trainer
Congregation of the Sacramentine Sisters, Malawi
Where preschool programs used to focus on reading and writing skills, now programs focus on the whole child—and their family. They integrate health, nutrition and positive parenting. And they encourage fathers to play a more active role with their children, even accompanying the mothers in postnatal care visits.
"My husband used to drink a lot and come back after 10 p.m., but after the sisters talked to us about the importance of giving time to our children … his attitude changed and he now comes home early and plays with the children while I prepare food. Our children are very happy and free with him."

—Jane Akot, SCORE-ECD participant
Photos by Georgina Goodwin for CRS
Transforming care for vulnerable children.
Tens of millions of children have lost one or both parents to AIDS-related illnesses and other adversity. Most of them live in countries with fragile social service systems that are not meeting their needs. The 4Children project provides customized and hands-on support to enable governments and civil society organizations to better provide for and protect orphans and vulnerable children.
Working through a CRS-led consortium funded by USAID and the President's Emergency Plan for AIDS Relief, the project is helping determine, through research and rigorous evaluation, the most effective interventions in child welfare, care and protection, and providing support to scale them up. We are also helping to develop guidance and policies for organizations and government working with children globally. Through this cutting-edge research and policy development, and by connecting a network of stakeholders worldwide, 4Children is building a safety net for vulnerable children.
In 2016, 4Children helped implement or strengthen social service systems in 12 countries. This work positively impacts the lives of children today—and for tomorrow.