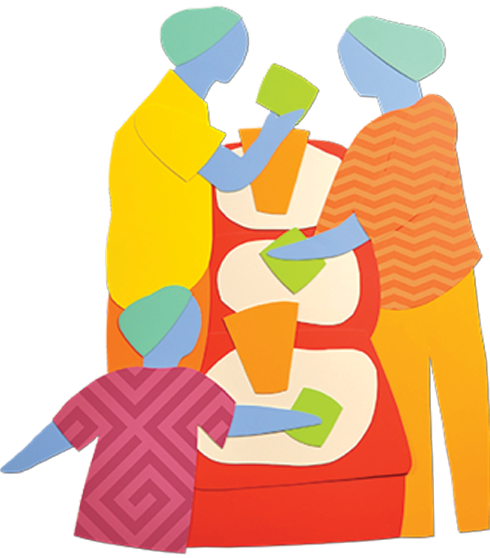 CRS brings people together to work for the common good. In the United States, we work to motivate and inspire Catholics on their faith journey, offering tangible ways for adults and children to live the Gospel by serving the world's poorest people.
ENGAGING CLERGY IN CATHOLIC SOCIAL TEACHING
Our outreach is a continuum—beginning with seminarians and ending with retired clergy. We strive to be a resource for clergy as they help Catholics deepen and act on their faith. CRS resources for Catholic social teaching and global solidarity are designed to deepen vocational understanding about justice and service to the poor. The CRS Global Fellows program supports clergy in the Gospel call to help our brothers and sisters overseas—and engage parishioners to provide assistance around the world.
STRENGTHENING AND CELEBRATING CATHOLIC IDENTITY
The CRS Global High School Program encourages high school students to become active global citizens, and involves the entire school community in the mission of Catholic social teaching. The program provides Catholic high schools with educational activities and opportunities to learn about our emergency response and recovery work.
CRS Parish Ambassadors are active parishioners with a passion for global solidarity. They encourage their parishes to respond to Catholic social teaching by engaging their fellow parishioners to participate in CRS Rice Bowl and at least two other global solidarity initiatives annually.
COMING TOGETHER TO END HUNGER
Most of us will never travel to the West African country of Burkina Faso, a nation experiencing both prolonged droughts and severe floods. But the power of our faith reached across the miles last September, uniting nearly 3,000 Catholic volunteers in the United States with poor farming families in "the land of upright people."
People from all over the world worked hourlong shifts at the World Meeting of Families in Philadelphia, packing 255,848 meals for orphans, widows and farmers living in poverty in Burkina Faso. The effort was organized by the CRS Helping Hands program, our partnership with Stop Hunger Now.
Richard and Angelique Lopez made the trip from Miami, Florida, to Pennsylvania with their children. They welcomed the opportunity to experience spiritual growth with their children through CRS Helping Hands.
"We were here for an hour or so, and we made 40,000 meals just banding together," says Richard Lopez. "How much more can we do on a daily basis to help those around us? If we can live out our faith, we can show that love to people all across the world."
"Blessed are those who hear the word of God and observe it." 
LUKE 11:28