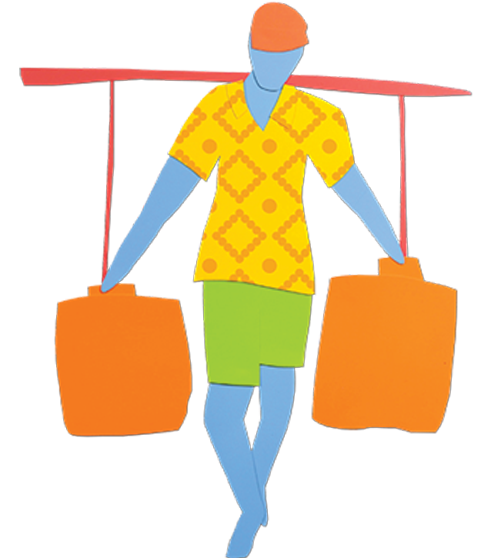 Over the years, CRS has developed programs in collaboration with hundreds of local organizations around the world. Our partners are often uniquely adept at finding the best solutions to problems in their communities. Yet they frequently lack a system, resource, skill or other tool to make improvements. Building capacity, strengthening institutions and accompaniment are essential for progress.
AT A GLANCE
537,283 PEOPLE TRAINED | 148 PROJECTS | 51 COUNTRIES
ASSESSING NEEDS AND IDENTIFYING GAPS
CRS works with our partners to evaluate their strengths and assets—as well as their needs— so they can achieve their goals. Together, we pinpoint areas for skill development—and program services—in areas like business strategy, human resources, procurement, supply chain and external relations.
DESIGNING AND IMPLEMENTING INTERVENTIONS
By leveraging local resources, staff, networks— and our own expertise—CRS helps our partners increase program and operational quality through coaching and mentoring, training and peer-to-peer learning, organizational design and restructuring, and other activities.
MADAGASCAR: IMPROVING WATER SYSTEMS
Although Madagascar is rich in freshwater resources, more than 60 percent of the island's 23 million inhabitants do not have access to clean water. That includes more than 70 percent of the most vulnerable people living in rural areas.
Rural Access to New Opportunities for Health and Prosperity, or RANO HP, builds on the community-based work of local and international nongovernmental organizations—and pioneering private sector work—to develop affordable, market-based water supply services in Madagascar.
CRS helped strengthen local capacity and supported lease contracts between local governments and private-sector water system providers. We also introduced a model whereby private enterprises invested in upgrading water supply systems in exchange for longer management contracts. Private funds have helped CRS continue to monitor and support these partnerships. About 90 percent of the systems are still functioning 2 years after project funding ended.
"Iron is sharpened by iron; one person sharpens another." 
PROVERBS 27:17
VIETNAM: ENGAGING PEOPLE WITH DISABILITIES
People with disabilities in poor and developing countries face particular difficulties linked to poverty and social barriers. In many cultures, a child with a disability is seen as a bad omen, bad luck or a result of poor lineage.
Since 1997, CRS has partnered with the government of Vietnam to strengthen policies regarding people with disabilities, and to fully engage them in society. Together, we are helping teachers, administrators and government officials fully include people with disabilities in education, meaningful employment and the broader community.
In the 2 decades since we began this partnership, CRS has successfully expanded our work to more than a dozen projects across 5 program areas. As a result, successful interventions have been scaled up, and national policies are changing.