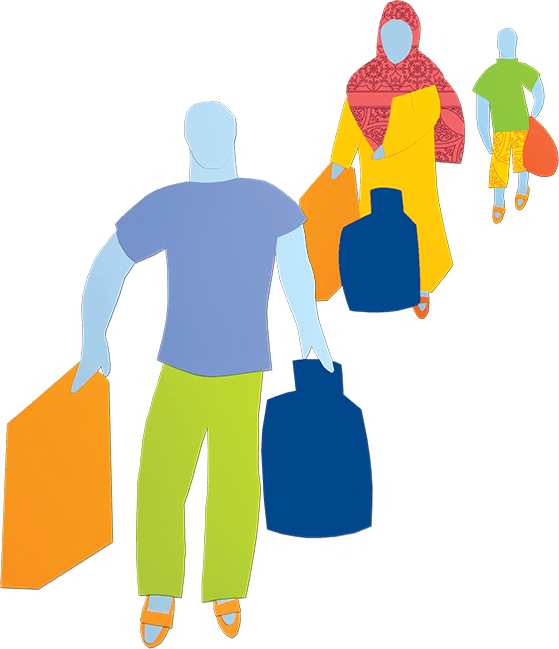 The basic idea behind microfinance is simple: Think small. Even a little money can make a big difference in the lives of the poor. By offering saving opportunities and small loans to people without access to formal financial institutions, CRS encourages income-generating enterprises. Our programs reach very poor households and communities, helping to create a sustainable financial base for local community development.
POOLING SCARCE RESOURCES
Before you have a harvest, you need to buy seeds. Before you have eggs, you need to buy chickens. If you're very poor—especially in regions affected by disaster or conflict—the first step toward financial security is the hardest. CRS focuses on savings methodology, helping community members form groups, pool their savings, and make loans to each other. This approach has created economic opportunities for more than 1.8 million people who live in the world's most impoverished areas.
IMPROVING ACCESS FOR ALL
From day one, Savings and Internal Lending Communities are owned and managed by their members. This creates more financial independence and ensures that our projects are sustainable over time. It also builds trust and social cohesion. SILCs provide marginalized groups—including women, farmers, people affected by HIV and vulnerable youth—an equal chance to participate and create new opportunities within their communities.
GAZA: GUARDING AGAINST ECONOMIC SHOCKS
The money is kept safe in a box with multiple locks. Each key is held by a different person. In the Gaza Strip, in a war-torn community, this simple system for saving money represents security for a small group of poor and vulnerable residents.
CRS introduced SILCs to help families in Gaza build household resources. The region's suffocating economic environment includes political instability, blockades, recurrent military incursions, as well as overcrowding, poor infrastructure and seasonal flooding.
SILCs are groups of 15 to 30 members who contribute small amounts to a collective fund. Most members save the equivalent of one to five dollars each week—enough to create a vital safety net for a family. SILCs also provide a space for social interaction and support, particularly for women.
They can also be a lifeline in conflict. When violence erupted in 2014, SILC members were displaced, and lost their homes and belongings. While living in temporary shelters, they relied on their savings to buy food, clothing, cooking supplies and hygiene items—a testament to the power of a locked box, multiple keys and a community built on trust.
"Integral human development and the full exercise of human dignity cannot be imposed. They must be built up and allowed to unfold for each individual, for every family, in communion with others …"
POPE FRANCIS