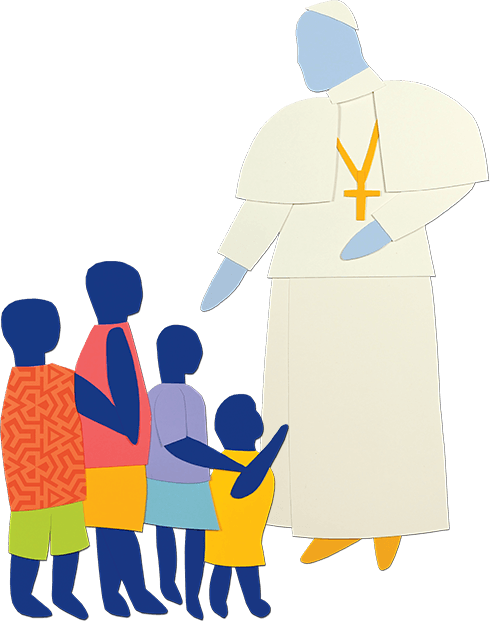 We are all part of one human family, as Pope Francis has so frequently reminded us over the last year. Loving our neighbor is at the root of Catholic social teaching.
At CRS, we believe personal well-being can only be achieved in the context of just and peaceful relationships. CRS programs are designed to help people live and work together as equals, overcoming conflict, honoring differences, and building bridges across religious, ethnic and political divides.
AT A GLANCE
3,686,141 BENEFICIARIES | 76 PROJECTS | 33 COUNTRIES
ADVOCATING FOR FAIR AND JUST SOCIETIES
CRS works to protect the basic human rights of the poor and vulnerable and ensure their voices are heard. Working with civil society, the private sector and the local Church, we address the root causes of exclusion and inequity, calling upon citizens and decision makers to assume their rights and responsibilities, to be accountable and to serve with integrity.
PROTECTING THE RIGHTS OF VULNERABLE CHILDREN
Poverty and violent conflict place children at special risk. More than 140 million children worldwide are orphans, and one-third of all children under the age of 5 are in danger of not meeting their full potential. CRS works to address the needs of children holistically, ensuring they have adequate physical protection, counseling, medical care, and access to essential resources and services.
CENTRAL AFRICAN REPUBLIC: RESTORING THE SOCIAL FABRIC
Peering over a broken wall of bricks, Marcaisse Ngoget recites Matthew 5:44: "Love your enemies, and pray for those who persecute you." Those bricks used to be Marcaisse's home in Central African Republic. Yet instead of vengeance, Marcaisse—the chief of three villages—is seeking reconciliation.
Central African Republic has been devastated by violent conflicts and ongoing instability. Since 2012, internal fighting has sparked social and political turmoil. Having witnessed terrible violence, Central Africans now face widespread trauma and devastated intercommunal relations.
CRS is working with communities to restore grassroots social cohesion—crucial to breaking the cycle of violence. Marcaisse is one of more than 1,300 religious, government and community leaders trained by CRS. He is helping his community seek dialogue and collaboration with the nomadic pastoralists said to have attacked his village, destroying his home and many others.
"We want to live in peace, and we can live in peace," says Marcaisse. "We go step by step."
"If you want peace, work for justice."
POPE PAUL VI
LEADING BY EXAMPLE: THE POPE'S MESSAGE OF PEACE AND SOLIDARITY
Despite an alarming rise in the ongoing violence, Pope Francis insisted on traveling to the Central African Republic in late November. In the capital, he visited a mosque under siege by armed Christian militias, and delivered a message of peace and solidarity.
"Together, we must say no to hatred, to revenge and to violence, particularly that violence which is perpetrated in the name of a religion or of God himself," the pope told local Muslim leaders and hundreds of others gathered inside the mosque.