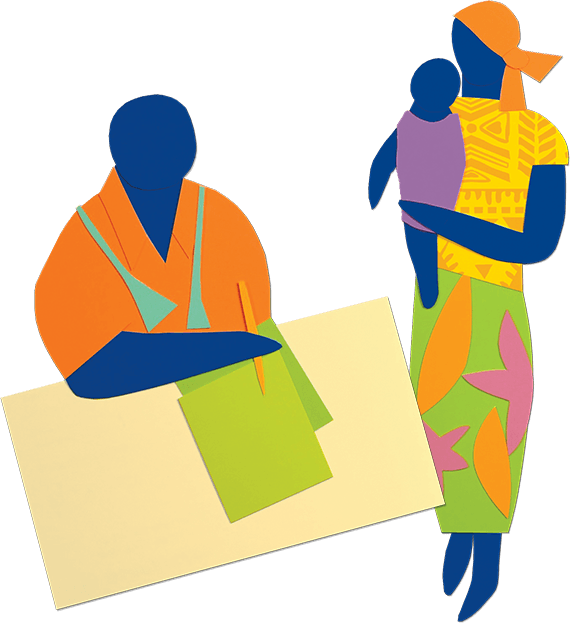 Poor health often goes hand in hand with poverty. CRS programs are designed to break this cycle. In remote and underserved communities, we address social inequities and work with families to prevent disease, provide better maternal care, and improve health and well-being for vulnerable children. Our programs are tailored to local needs. We collaborate with a broad network of partners and government agencies to create solutions with long-term impact.
AT A GLANCE
73,091,665 BENEFICIARIES | 104 PROJECTS | 41 COUNTRIES
GIVING CHILDREN A FAIR CHANCE
CRS promotes a holistic approach to child well-being and protection. We work to ensure children reach school age healthy and well nourished, intellectually curious, socially confident, and equipped with a solid foundation for lifelong learning and development.
STRENGTHENING HEALTH SYSTEMS
Many resource-poor areas lack the systems to deliver health care reliably, consistently, at reasonable cost, and at the scale required to serve those most in need. The Ebola outbreak in West Africa is a good illustration. Our relationships with faith-based health networks and facilities, which provide more than half of all health care in some countries, help us reach even remote areas that government services may not.
TREATING CHILDREN WITH HIV
Last year CRS worked to improve the odds for kids and families in Mufulira, Zambia, through outreach to children with HIV.
Although AIDS-related deaths continue to decrease globally, in sub-Saharan Africa one group remains at high risk: children. This is especially true in Zambia, where there is little access to pediatric antiretroviral therapy. Without it, more than 80 percent of HIVinfected children will die before their fifth birthday.
The CRS program, based at Malcolm Watson Hospital, is part of ACT, a 2-year global effort to double the number of children receiving this lifesaving treatment in sub-Saharan Africa. The program trains local health care providers, educates parents and families, expands testing through schools and orphanages, and broadcasts information via radio and social media. It's a collaborative effort to promote early and ongoing antiretroviral treatment.
Our goal is to enable 300,000 more children living with HIV to receive antiretroviral therapy. They are the future of Mufulira and other vulnerable communities in sub-Saharan Africa.
PROTECTING THE MOST VULNERABLE FROM MALARIA
CRS is working with partners to lead an ambitious new effort to put a stop to malaria deaths in Africa.
In 2015, we delivered preventative malaria medicine to more than 1.4 million children under 5—the age group most at risk for severe illness and death. Called seasonal malaria chemoprevention, this treatment has the potential to prevent 75 percent of malaria cases.
UNITAID, a global health initiative, awarded up to $67 million to Malaria Consortium— in partnership with CRS—to support national malaria control programs to scale up preventative treatment. The 3-year project reached 3.2 million children under age 5 in Mali, Niger, Nigeria, Chad, Guinea, The Gambia and Burkina Faso. CRS is managing the project in Mali, Niger, The Gambia and Guinea.
"The light shines in the darkness, and the darkness has not overcome it." 
JOHN 1:5
SAFER SLEEP FOR 18 MILLION
In May 2015, we distributed more than 5 million long-lasting insecticide-treated mosquito nets in Niger. With two people sleeping under each net, more than 10 million are protected from malariacarrying mosquitos.
"Malaria has a devastating effect on communities across Africa," says William Rastetter, CRS country representative in Niger. "By edging closer to universal coverage in Niger, we can eliminate malaria—and the needless deaths that have occurred."
CRS is collaborating with the Niger Ministry of Health and local partners to provide enough nets to protect 18 million Nigeriens.
PLANNING HEALTHY FAMILIES
The Awors live in Kalongo Township, Uganda. After their fourth child was born, they heard a radio announcement about natural family planning workshops in their community. Today, they credit the workshops with strengthening their marriage and improving the health of their baby—and their entire family.
Recognizing the lifesaving benefits of healthy timing and spacing of pregnancies, CRS piloted the Natural Plan project in Uganda through a grant from the Institute for Reproductive Health at Georgetown University. The project benefited nearly 5,000 couples, strengthening relationships and expanding access to natural and effective family planning methods.
LEADING THE WAY TO A BETTER FUTURE
Damaris Mvyombo, a retired primary school teacher in Lushoto, Tanzania, started Huruma Children's Group in 2010 to support orphans and vulnerable children. She now leads a group of 70 children, 23 of whom are living with HIV.
Mvyombo encourages them to stay in school and practice good hygiene. She also makes sure that children with HIV take their medicine and receive regular checkups, working with the Lushoto District Hospital Care and Treatment Clinic. The clinic provides health services, nutritional support and counseling.
CRS supports Lushoto District Hospital through the Centers for Disease Control and Prevention-funded LEAD project, which is gradually transitioning leadership and management of HIV care and treatment centers to local partners. For example, Huruma Children's Group is sustained largely through Damaris' income from farming, and periodic support from the Lushoto District Council. The results are priceless: improved quality of care for children living with HIV in Lushoto.