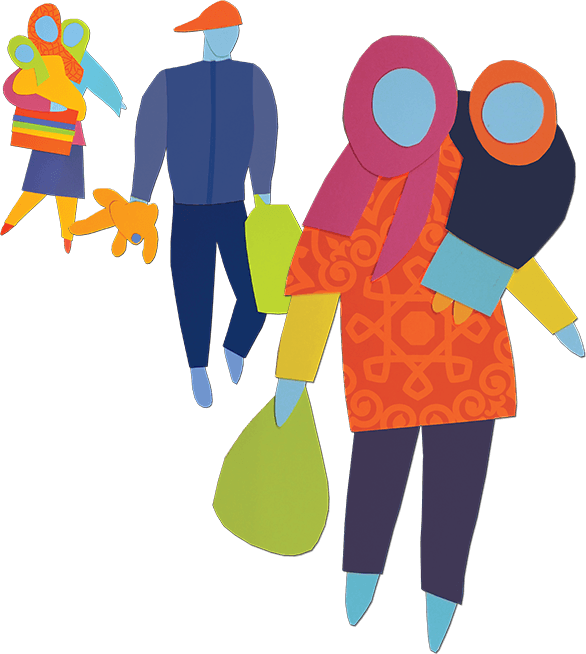 People are at their most vulnerable in an emergency. Driven from their homes, refugees and survivors of natural disasters have often lost everything—loved ones, livelihoods and the plans they had for the future. CRS responds immediately to crises like these around the globe. We work with a broad network of Church and local partners to provide vital necessities like food, shelter, living supplies, protection and education for children, medical assistance, and trauma healing. But it is our adaptability to circumstances and commitment to longterm recovery that differentiates our approach. We help people develop the tools and skills they need to get back on their feet, and—working within local communities to rebuild lives—we create new opportunities that renew hope.
AT A GLANCE
13,267,433 BENEFICIARIES | 168 PROJECTS | 46 COUNTRIES
REBUILDING HOMES
CRS is a recognized leader in innovative shelter solutions that meet the right need at the right moment. In the early days of an emergency, tarps and other materials protect families from the elements. Later, as communities begin to recover, we offer transitional housing that can be converted to permanent homes. And we encourage upgrading these homes to make them more resilient. Our designs consider available materials so they are compatible with the local architecture and culture.
INVESTING IN COMMUNITIES
In the aftermath of a disaster, CRS works to restore local economies. By providing people with vouchers or cash grants to use at local shops or organized fairs, our market-based programming helps vendors get back in business. Vouchers and cash grants are used to fulfill a range of needs, including food, shelter, hygiene and living supplies, and agricultural seeds and tools. They not only support the local economy, but also honor the dignity of people in need by allowing them to make their own purchasing decisions.
CONFRONTING A GLOBAL CRISIS
CRS assisted more than 1 million uprooted Syrians and Iraqis across the Middle East and Europe in 2015.
IRAQ: PROTECTING FAMILIES
Lives changed in a moment for many Iraqi families with a call in the middle of the night saying: "Leave home. Leave town. They're coming."
Escalating violence by ISIS forced 3.2 million Iraqis to leave their homes, schools and professional lives. Civilians of all ethnic and religious backgrounds have been affected, including Christians, Yazidis, Turkmen, as well as Shiite and Sunni Muslims. At least 1.5 million people sought refuge in northern Iraq's Kurdistan region.
CRS and Caritas Iraq share three offices across Kurdistan that have served more than 101,000 displaced Iraqis with critical relief, including safe shelter, vouchers and cash grants for food and living supplies, sanitation and hygiene supplies, infrastructure, and education and social services for children.
THE MIDDLE EAST: CARING FOR SYRIAN REFUGEES
The war in Syria has claimed at least 250,000 lives. More than 11 million people—half of Syria's population—have fled their homes. Many are families with children. They need food and a safe place to sleep, as well as medical care, trauma counseling and education. Working with our Caritas partners, CRS supported 850,000 Syrians with medical assistance, living supplies, shelter, food, education and care for children.
"Children are the biggest losers in this conflict. When they hear a voice, they think it is the sound of a rocket. If they see a star in the sky, they think it is a plane."
—Hasan, a Syrian refugee and teacher in Turkey
EUROPE: RESPONDING TO A GROWING CRISIS
Zaynab Ahmad was 9 months pregnant when she arrived at the Macedonia–Serbia border. By then, the Syrian mother of 5 had endured numerous hardships: the brutal civil war, destruction of her husband's bakery in Aleppo, and a perilous journey across the Mediterranean Sea.
Exhausted and in the early stages of labor, Zaynab sought refuge at the Tabanovce transit camp, supported by CRS. At a nearby clinic she delivered a healthy baby girl, Layla, and was able to rest at the camp before continuing her journey.
Working through local Church partners, we provided food, clothing, hygiene supplies, and medical, legal and translation services to more than 230,000 refugees like Zaynab in Greece, Macedonia, Croatia and Serbia. They came from Syria, Iraq, Afghanistan and other countries.
"Consult not your fears, but your hopes and your dreams."
ST. JOHN XXIII
NEPAL: REBUILDING IN RUGGED TERRAIN
Two powerful earthquakes rocked Nepal last spring, claiming more than 8,000 lives. Entire communities were leveled—homes, schools, markets and infrastructure. CRS worked closely with Caritas Nepal to help people in the most affected areas of Gorkha district, including some of the world's most isolated villages.
"To get to our distribution site, we had to drive 2 hours over a rugged dirt road—and families had to walk 3 hours to meet us. The dirt roads are so bad we had to hire tractors to get up the roads," says Jennifer Hardy, CRS regional information officer for Asia. Our work was especially urgent, given the approach of the monsoon season, when travel conditions would become dangerous or impossible.
In 2015, CRS provided 26,000 families—130,000 people—with shelter materials, living supplies, and water treatment and hygiene materials. During the winter, providing cold-weather supplies was critical in high-altitude areas. We are now helping communities lay a foundation for full recovery, with an emphasis on strengthening markets and building safe shelter.
WEST AFRICA: EBOLA RECOVERY
Across West Africa, there was good news about Ebola recovery. The World Health Organization declared Sierra Leone and Liberia Ebola-free less than 2 years after the 2014 outbreak, which claimed a staggering 11,000 lives. CRS remains committed to the recovery, managing a $19.7 million response focused on prevention and healing. We have reached 2 million people with messages about prevention and treatment. We have also provided hygiene and sanitation kits to 8,500 people, trained thousands of health care workers and community leaders, rebuilt or constructed new health facilities, and provided food assistance to vulnerable families.
THE PHILIPPINES: LIFE AFTER TYPHOON HAIYAN
November 8, 2015, marked 2 years since Super Typhoon Haiyan hit the Philippines, claiming 6,201 lives and leaving Leyte and Samar islands in ruins. The typhoon left 1.1 million homes damaged or destroyed.
Anticipating the storm, CRS redeployed staff to areas under threat and mobilized resources to support our local partners. Our response continues as homes are rebuilt, water systems are put in place, farmers and others are getting back to work, and markets are thriving.
More than 100,000 people have received CRS support to rebuild and repair their homes, including water and latrine infrastructure. With vocational training and assistance, nearly 9,000 men and women have returned to work. Over the next 3 years, CRS plans to help families living in dangerous coastal areas relocate, and to improve community preparedness and risk reduction for future disasters.
A BEACON OF HOPE IN SOUTH SUDAN
CRS is providing comprehensive support to families in Lakes and Jonglei states, where fighting erupted between the nation's 2 largest ethnic groups. Since the conflict started in 2013, at least 1.6 million people have been displaced from their homes, and more than 7 million people do not have enough food. The Church is one of the few institutions in South Sudan with the credibility, capacity and presence to address concerns affecting society at large. During the civil war, the Church was a source of humanitarian and spiritual support. CRS and our Church partners provided food and nutritional supplements to more than 500,000 people, and we provided thousands with access to clean water, sanitation and hygiene. Farmers participated in agricultural training, and tens of thousands of people had opportunities to earn income.