A good harvest is the key to fighting poverty and hunger in much of the developing world. CRS helps small-scale farmers and their families recover after natural disasters and violent conflict, and adapt to a changing global climate. We start with better seeds, new techniques and improved infrastructure. Then we help farmers build the core skills they need to bring their goods to market and stabilize their income.
AT A GLANCE
4,997,606 BENEFICIARIES | 116 PROJECTS | 38 COUNTRIES
NURTURING RESILIENCE THROUGH CONSERVATION
With the publication of his encyclical on the environment, Pope Francis called the world's attention to the impact of climate change on the poor and vulnerable. CRS helps farmers learn skills for climate-smart agriculture. Techniques include no-till farming, conserving water, using crop varieties resistant to pests, planting trees and cover crops to prevent soil erosion, and using "green manure"—green plants that nourish and rebuild the soil. These approaches increase productivity in the face of climate threats, decrease costs and protect the environment.
HELPING SMALL BUSINESSES THRIVE
CRS helps farming communities become more selfreliant by engaging in competitive markets. Once they have rebounded and strengthened their capacity to grow a healthy harvest, we connect farmers to traders, processors, exporters and other small companies. We regularly partner with rural financial institutions to help farmer organizations access lowinterest loans.
PROTECTING CROPS AND LIVELIHOODS
Pests are more than a nuisance for poor farmers in the West African nation of Sierra Leone. Stockpiles of corn, sorghum, wheat, rice, beans—and their seeds—are vital to farmers' livelihoods. Weevils can destroy up to 80 percent of precious seeds.
That's why CRS, with support from our partner CORDAID, teamed up with agriculture experts at Purdue University to introduce the PICS grain and seed storage innovation to farmers. PICS, which stands for Purdue Improved Crop Storage, is a specialized bag developed to help farmers protect harvested crops and increase income.
The secret to PICS bags is triple-layer construction that deters pests like the cowpea weevil from eating and destroying harvests. PICS bags help keep stockpile losses below 1 percent.
Farmer Mary Banton-Farmar says, "Now that we have an idea of how PICS bags can keep our seeds and grains safe for long periods, our fears are being put behind us."
COPING WITH CLIMATE CHANGE
There are the years of three rains. The years of two rains. The years of one rain. And years like this one.
"We haven't had rain for over a year," Jemal Bedhaso says, as he squints against the relentless afternoon sun.
Coping with the effects of climate change has become a daily feat for millions of Ethiopians like Jemal, who depends on income from raising small livestock. The lack of rain means low prices for their emaciated animals.
Erratic rainfall, prolonged droughts and flooding have made it difficult to know when to plant. Too often, harvests are meager.
"Children don't have the strength to walk to school and had to quit," Jemal says. "We're starving because there's no water."
Working with the local Church, CRS is giving communities like Jemal's training and support to adapt to climate change. REAAP is a 3-year project funded by the U.S. Agency for International Development that works hand in hand with 6 vulnerable districts in Oromia state. New techniques, skills and community-led programs help vulnerable families cope with the changing weather.
REAAP by the numbers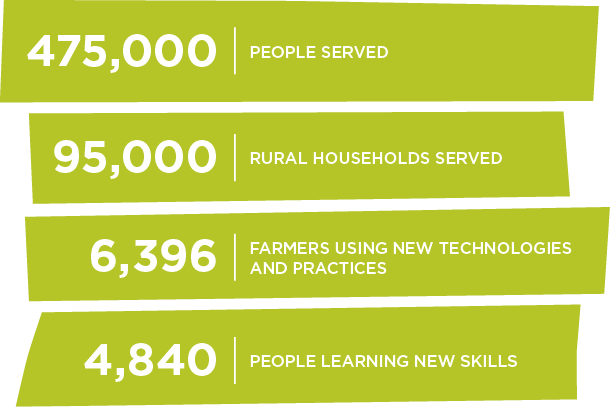 DISCOVERING THE CREAM OF THE CROP
High mountains, volcanic soil, warm days and cool nights create the perfect conditions for growing two crops: coffee beans and coca plants. It's a dangerous combination in places like Narino, in southwestern Colombia, a stronghold for criminal groups that use coca to make cocaine.
Helping farmers earn premium prices for their coffee beans helps them avoid the dangers of the coca trade. That's the goal behind Borderlands, a 5-year project that unites small-scale farmers with specialty coffee roasters in the United States.
More than 3,000 small-scale farmers in Narino depend on coffee for their livelihoods, including Fidencio Chamorro, whose coffee earned a taste rating of 90 points, a number reserved for only the cream of the coffee crop.
"They told me that I have gold on my farm, and I just couldn't believe it," says Chamorro.
Since that initial tasting, CRS has worked with coffee roasters including Allegro Coffee Company, Counter Culture Coffee, Intelligentsia Coffee, Keurig Green Mountain and Stumptown Coffee to help Chamorro and hundreds of other small-scale family farmers achieve many firsts: first-time access to new markets, first-ever exports, first-time trade finance, and first-time premium prices for their coffee.
Focusing on the future, Borderlands is creating community-based coffee processing centers to help growers across Narino take advantage of similar opportunities in the years to come. The more they earn from their coffee, the less they will have to depend on coca.
"As stewards of God's creation, we are called to make the Earth a beautiful garden for the human family." 
POPE FRANCIS